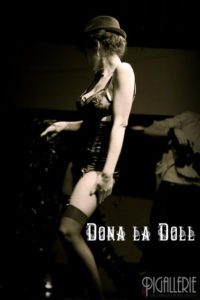 Personnage
Dona la Doll est une danseuse et performeuse burlesque qui puise son inspiration dans plusieurs registres et univers. Librement inspirée par le personnage de Betty Boop, puis par Josephine Baker qui devient son modèle, autant par le style de danse que par la personnalité, elle est aussi bien adepte de rap et de dancehall, et n'hésite pas à varier ses influences afin d'apporter à ses performances une touche bien personnelle.
Récompenses & Références
En juillet 2015, elle remporte le Prix du numéro le plus original aux Wunder Awards de Daisy Deparys, avec le numéro « Police&Thief », et est également nominée pour le meilleur numéro New Burlesque.
Encouragée par cette récompense, elle continue à créer des numéros solos et en collaboration.
Elle danse également aux côtés du rappeur Gérard Baste, lors de sa tournée, de 2016 à 2018, et participe, en plus de prestations scéniques variées (chorégraphies, effeuillage, gogo dancing, improvisation, animations), à plusieurs vidéo clip ; Gérard Baste/Svinkels, Ibrahim Maalouf, La Prière du Poulet…
Elle collabore aussi avec plusieurs photographes (Maxime Guillemeau, Dominique Cherprenet, Matt Foxx, Mathieu Stern, Emmanuel Vaney, Torz Rovers…) et sur d'autres projets vidéographiques.
Cursus
Elle découvre le Burlesque et en apprend les bases à l'Ecole des Filles de Joie de Juliette Dragon, d'octobre 2010 à novembre 2013. Elle monte sur scène pour la première fois sur les planches de la Bellevilloise, et y performe de 2011 à 2014, années pendant lesquelles elle améliore sa technique et sa présence scénique.
Elle performe ensuite à la Pigallerie, à la Rotonde, au RexClub, à la Java pour les soirées « Balance maman hors du Train », aux Petites Gouttes pour « Le Petit Cabaret des Bois de la Vamp », au WunderKabarett, avec le Lettingo Cabaret, La Maison Burla, puis régulièrement avec la Troupe du Rocka Burlesque, aux côtés du chanteur YG lors de ses concerts, dans des cabarets parisiens, en province, dans des évènements privés, des soirées, des festivals,…  Elle est membre de la troupe du Rocka Burlesque de 2019 à 2021.
Elle pratique la barre au sol classique dont elle apprécie la rigueur et la technique, au Studio Harmonic, Dancehall, Afro Dance et plus occasionnellement, Waacking, Danse Orientale, Charleston et Modern Jazz.
En 2019, elle commence à donner des stages d'initiation à l'effeuillage burlesque.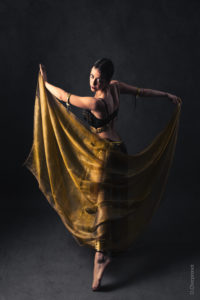 +++ TRIBAL FUSION

Depuis 2012, elle prend des cours de Tribal Fusion, discipline qu'elle affectionne particulièrement et pratique de manière régulière, ainsi que d'ATS (American Tribal Style), avec pour professeur Julie de Saint Blanquat de l'Association Etoile des Sables.
---
THE ARTIST
Dona la Doll is a dancer and burlesque performer who draws inspiration from several genres and styles. Loosely inspired by Josephine Baker, who became her model both for her dance style and her personality and strength of character, Dona la Doll is also a follower of rap and dancehall music and culture, and does not hesitate to vary her influences to bring her performances a very personal touch.
AWARD & REFERENCES
In July 2015 she won the prize for the most original act at theWunder Awardsby Daisy Deparys, with the routine "Police & Thief", and was also nominated for the best new burlesque act.
Since then, she has continued to create solo and collaborative shows.
She also danced alongside rapper Gérard Baste, during his 2016 to 2018 tour, and she has participated in various stage performances (choreography, stripping, gogo dancing, improvisation, event hosting), and in several music videos; Gérard Baste/Svinkels, Ibrahim Maalouf, La Prière du Poulet…
She also collaborates with photographers (Maxime Guillemeau, Dominique Cherprenet, Matt Foxx, Mathieu Stern, Emmanuel Vaney, Torz Rovers…) and on other video projects.
BACKGROUND
She discovered Burlesque and learned its basics at Juliette Dragon's L'Ecole des Filles de Joie, from October 2010 to November 2013. She made her stage debut at La Bellevilloise(Paris), where she performed from 2011 to 2014. During this time her skills were honed and her stage presence perfected.
Since then, she has performed at laPigallerie, la Rotonde, le RexClubandla Javafor the "Balance Maman Hors du Train" events; atles Petites Gouttesfor the event "Le Petit Cabaret des Bois de la Vamp"; at the WunderKabarettand with the Lettingo Cabaret; at LaMaison Burla; regularly with the Rocka Burlesqueand alongside the singer YG during his concerts; in Parisian cabarets and outside of the capital; at private events; parties; festivals…
She currently does ballet barre training, appreciating the rigor of this technique, at Studio Harmonic(Paris). She also practices Waacking, Dancehall, Belly Dancing, the Charleston and Modern Jazz.
She joined and performed with the Rocka Burlesque troop, in 2019-2020.
In 2019, she began to teach classes in Burlesque stripping.
+++ TRIBAL FUSION
She has been taking courses in Tribal Fusion since 2012. She particularly likes this discipline and practices on a regular basis, along with ATS (American Tribal Style) with Julie de Saint Blanquat from the Etoile des SablesAssociation.